JD Golf Tours is delighted to offer packages for the 2016 Ryder Cup at Hazeltine Golf Club in Chaska, Minnesota just outside of Minneapolis USA.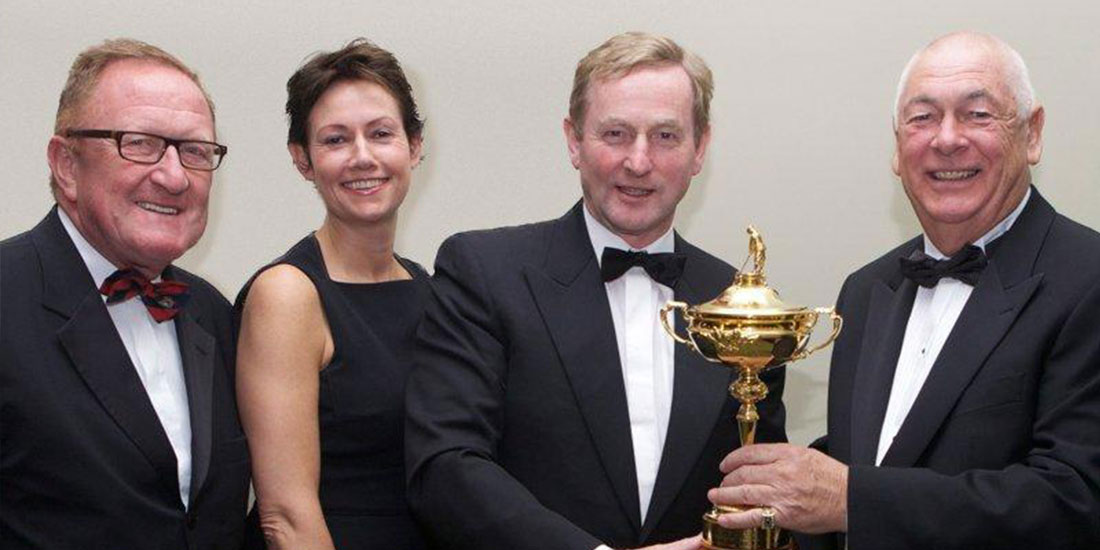 Richard Hills Managing Director of Ryder Cup Europe, Kyra Donworth Managing Director JD Golf Tours, Enda Kenny An Taoiseach / Prime Minister of Ireland, Christy O'Connor Jr Tournament Professional and Ryder Cup Team Member
Darren Clarke has been accorded one of the greatest honours in professional golf. The Tyrone native, 46, will lead the European Ryder Cup team into action against the USA at Hazeltine in September 2016. In 2010 Darren Clarke received the Jerry Donworth Outstanding Contribution to Golf at the IGTOA Gala Awards held at the Slieve Donard Resort and Spa at Newcastle, County Down.
We have numerous hotel packages available both in Bloomington, Downtown Minneapolis and a Casino Package at Mystic Lake. We also offer International Pavilion Tickets and upgrades are available to VIP Private Hospitality located on the 16th hole.
Our basic packages will include four nights accommodations, Ryder Cup season badge, round trip daily transportation to the golf course, Ryder Cup gift and a welcome reception. We will also be able to provide upgrades to International Pavilion Tickets, On Site VIP Hospitality and practice rounds.
BASIC PACKAGE INCLUSIONS
4 night package arrive Thursday 29th September depart Monday 3rd October
Breakfast daily
Ryder Cup Season Badge (Valid Thursday 29th September – Sunday 2nd October)
Official transportation to/from Hazeltine
Welcome to Hazeltine event Thursday 29th September)
Ryder Cup Gift
RESORT PACKAGE HOTEL & PRICING
€3,460 double / €4,410 single
Mystic Lake Casino Resort (only 8 mins from Hazeltine)
GOLD TEE PACKAGE HOTELS & PRICING
€3175 double / €4125 single
Radisson Hotel Mall of American (Bloomington)
Depot Renaissance Hotel (Downtown MSP)
CHAMPIONSHIP TEE PACKAGE HOTELS & PRICING
€3555 double / €4,790 single
Hyatt Regency Downtown MSP
BLUE TEE PACKAGES HOTELS & PRICING
€2,890 double occupancy / €3,840 single occupancy
Commons Hotel (Downtown MSP near University)
Best Western Hotel (Bloomington)
Residence Inn Depot (Downtown MSP)
Bloomington is the closest location to Hazeltine about 20 minutes. Downtown Minnesota is about 35 minutes. The Resort package at the Casino is only 8 mins from the course so it is by far the closest hotel.
International Pavilion –Upgrade to the International Pavilion €550.00 per person.
Upgrade your experience – On Site Hospitality 16th hole.
You can upgrade your experience with VIP Private Hospitality on the 16th Hole. Please contact JD Golf Tours info@jdgolf.ie for more information.
Terms and conditions apply. Prices may vary due to currency fluctuation.
If you decide to leave the planning to someone else JD Golf Tours are among the most trusted names in European golf travel. Based in Shannon, Ireland this outfit is popular and efficient.
– Luxury Magazine for American Airlines
Whether designing a customised Golfing Itinerary for individuals, a larger Golf Tour for groups or corporate incentive trips, our focus is to guarantee a Golfing experience that exceeds your expectations and one which you will remember for a lifetime.
Our impeccable reputation now precedes us, the majority of our clients coming from personal recommendations and repeat business. Please fill out our request form. We will prepare a customised proposal and reply back to you. Once you are satisfied, we will confirm availability and finalise your itinerary.
THE JERRY DONWORTH OUTSTANDING CONTRIBUTION TO GOLF AWARD
Receiving awards is always special and gives great satisfaction for the work one has done, getting an award from my very good friend Jerry Donworth and presented by his daughter Kyra was extra special and one I will always treasure, thank you to the Donworth family
– Christy O'Connor Jr